3D Juump Ace est bien plus qu'un simple viewer 3D. Découvrez comment importer, modifier et enrichir les metadonnées d'une scène 3D grâce au fichier CSV.
Données fournies par Replic'Air.
Vidéo tutoriel en français, sous-titre en anglais.
6.1.2 - Metadata enrichment
Further the format, the Metadata originate from 3D files; they can be imported from CSV or FBX files.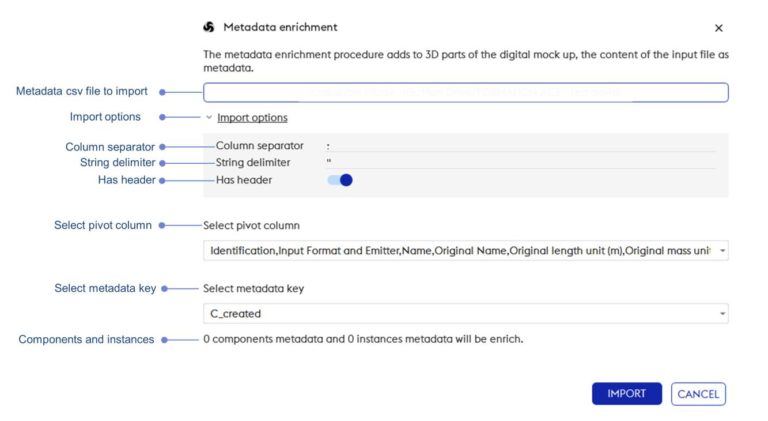 Tool box / Adding metadata
Metadata csv file to import: Name of the metadata csv file to import
Import options: for formatting the csv file
Select pivot column: to map with selected metadata key in 3D scene
Column separator: value separation character in the csv file
String delimiter: Chain delimiting character
Has header: if the first line of the csv file is the header. Ignores the first line of the csv, it is the name of the column.
Select metadata key: Choice of the key metadata to associate in the 3d file
Components and instances: Number of components and instances that will be enriched with metadata from CSV file